Wednesday 21 September 2022
An exciting future begins at National Nuclear Laboratory  
National Nuclear Laboratory (NNL) welcomed a new cohort of talented graduates, apprentices and industrial placement students this month. Its largest intake to date, the group will embark on an exciting career journey, working on cutting edge projects to help solve urgent, real-world challenges.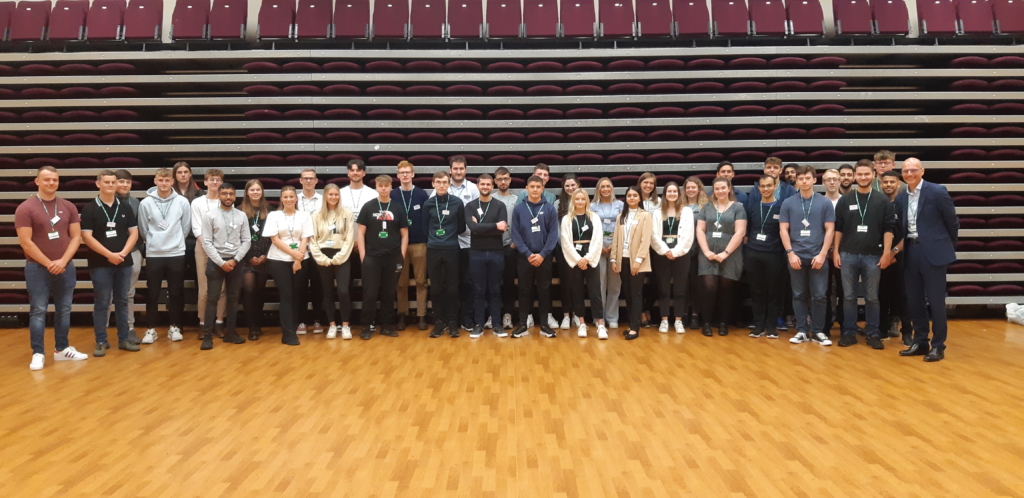 Securing future skills
Investing in NNL's future workforce is critical to meeting the opportunities of the new nuclear landscape; and NNL is building a culture where everybody feels valued and can flourish, and a reputation as a home for stimulating, rewarding careers to secure skills for the future.
The new recruits will receive a unique training experience at NNL, with exposure to a broad range of assignments from early on, tailored mentoring to aid their development, as well as continuous support as they work towards their qualifications. The new intake will be spread across NNL's facilities in Cumbria, Preston and Warrington.
Dr Paul Howarth, Chief Executive Officer at NNL, said: "I was delighted to meet the next generation of graduates, apprentices and industrial placement students at Lakes College. I was enthused by the high-calibre of the new recruits as the most important asset for our future success is our people. We are fortunate to be gifted with some of the most creative and inspired minds in our sector, in the world.
"From award-winning graduates to internationally acclaimed subject matter experts, everyone in our workforce is here to deliver environmentally and financially sustainable solutions to some of the world's biggest challenges. And it is their skills, knowledge and enthusiasm that drives our work and fuels our purpose."
Celebrating diversity of thought
People are our greatest asset to the sector, and we are determined to cultivate diversity, innovation and collaboration across all we do.
With the urgency of the climate crisis, there is a growing public consciousness about the role every one of us can play towards net zero. At NNL, all our employees can be confident that they are making a positive difference to society, within their daily roles.
Andy Bloor, NNL's Early Careers Manager, commented: "We are thrilled to welcome our new talented trainees. We offer a supportive, knowledge sharing environment that provides an opportunity to gain a deeper understanding of the role we play in pushing the boundaries of science and discovery. We look forward to helping our new intake on their journey to become well rounded, professional nuclear superstars of the future allowing them to develop their skills both personally and professionally."
NNL also has a postdoctoral cohort of 15 who will be inducted later this month.
Graduate opportunities opening soon
Looking for a career where you can make a difference now and for future generations? NNL's graduate opportunities for 2023 will soon be open as its recruitment drive gets underway towards the end of September.
To find out more about early careers at NNL visit: www.nnl.co.uk/careers/early-careers/