Annual Report Published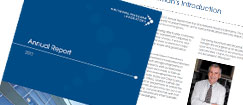 As NNL becomes more established as a commercial business, we have also taken a new approach to publishing our annual results. The first NNL Annual Report appears on the website today and features our results for 2011/12 and commentary on another great year.
In implementing our new brand and identity, NNL is entering the next exciting phase of development.  We would like to invite all of our customers and stakeholders to join us on our ongoing journey to deliver world class quality, value and service.