Wednesday 13 September 2023
Decarbonisation and regional growth are possible
National Nuclear Laboratory (NNL) hosted a highly successful event this morning at 'Nuclear Week in Parliament', showing that you can decarbonise the most energy-intensive industries and have a thriving local economy.
Participating in the Nuclear Industry Association's annual event, NNL unveiled a model of an integrated energy system made entirely from Lego®. The futuristic landscape shows the potential of all energy sources to deliver the diverse energy needs that the UK will require in the 2040s to 2050s.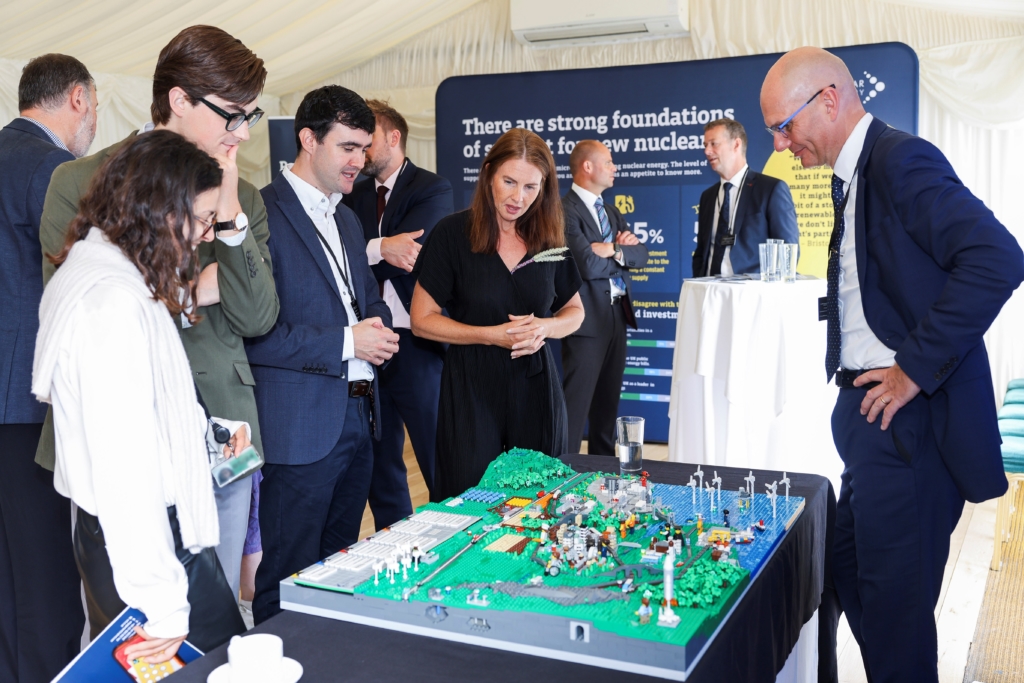 For example, the model shows how nuclear sits alongside other sources of power, such as wind or solar. The Gigawatt and Small Modular Reactor power plants can provide baseline electricity, with the Advanced Modular Reactor delivering the high-grade heat needed for energy intensive industries such as cement manufacturing, that cannot decarbonise with electricity alone.
In addition, the airport a short-haul flight taking off, fuelled by hydrogen, alongside storage tanks of synthetic aviation fuel for long-haul flights. Both fuels can be made from nuclear enabled hydrogen – taking heat from the reactor to split water into its separate components of hydrogen and oxygen.
Nuclear plants bring a wide range of well-paid, skilled jobs to region – shown on the model as Lego® minifigures – including construction shows workers, security, professional services staff and the scientists and engineers that run the plants.
Dr Paul Howarth, Chief Executive Officer at the National Nuclear Laboratory, said:
"The UK Government is supportive of nuclear technology, with several policies in place and targets to deliver over the coming years. Today was an excellent opportunity to continue those conversations with so many of our MPs and Lords. Now is the time to fully implement the opportunity that nuclear energy brings to mitigate the climate crisis."
Virginia Crosbie, Member of Parliament for Ynys Môn and co-host of the event, added: "I am delighted to see that NNL's research in Anglesey shows that communities that live close to nuclear power plants are supportive of nuclear energy as they see the opportunities for local jobs over the decades of the plant's life."
Charlotte Nichols, Member of Parliament for Warrington North, was also happy to co-host and concluded: "I recently had the opportunity to meet some of NNL's talented team of scientists and engineers, who carry out research at the forefront of nuclear science. One such project is the development of the UK's high temperature gas reactor, and I was thrilled to celebrate the collaboration between NNL and the Japan Atomic Energy Agency last week."