Friday 30 September 2022
NNL's Robert Alford becomes the Nuclear Institute's youngest Fellow
After recently returning to National Nuclear Laboratory (NNL) from a two-year secondment at the Nuclear Innovation and Research Office (NIRO), Robert Alford has achieved an incredible milestone in his career…becoming the Nuclear Institute's (NI) youngest ever Fellow. We caught up with him to find out more, including how he wants to use this new platform to inspire mid-career professionals to apply for NI Fellowship.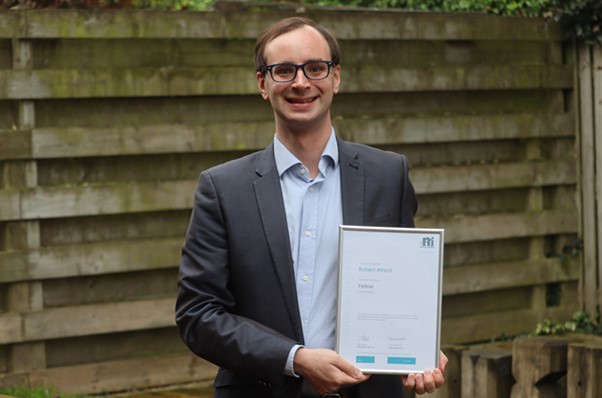 Can you tell us a little bit about your journey that led to this achievement?
It all began when Urenco did a talk at my high school when I was 14, this sparked my interest in the sector and led to me later attaining a degree from Loughborough University in chemistry. I then started to gain as much experience as possible – joining NNL's graduate scheme in 2012, volunteering for the NI Young Generation Network (YGN) and a secondment at the University of Manchester. However, I really wanted to get some hands-on nuclear experience and applied to be a deputy technical lead in our Windscale facility, undertaking post irradiation examination of AGR fuel from the UK's current nuclear reactors.
Have your roles at NNL been pivotal in realising your ambition?
Yes, NNL have supported me in these roles, as well as my most recent role at NIRO*, supporting government in understanding the wider energy applications of nuclear and input to the new Great British Nuclear vehicle. So, you can see the turning point where I began to broaden my experience into different areas of nuclear that I wouldn't have necessarily imagined working in outside NNL. Each opportunity encompassed leadership and teamwork, vital attributes in my application to become a Fellow.
For anyone considering Fellowship, what are the main things you would like them to know?
Be bold. To gain Fellowship, candidates first need to be NI Members and are asked to display how they have impacted and influenced the sector, and this is usually accompanied by 10+ years of leadership experience – which I did not have (yet)! Find a mentor that believes in your capability, I was lucky to have Professor Andrew Sherry as my referee who guided me throughout the application process. Varied experience is also key, asking as many questions as possible to further your knowledge while you are working your way up the career ladder. NI have also produced some handy guidance documents to help you get started in the application phase.
What are the benefits of being a fully-fledged NI Member (MNucl)?
The Nuclear Institute is the only 100% nuclear professional membership body that serves our sector, from scientists to solicitors and everyone in between. As well as the fantastic networking opportunities it provides, you can share specialist knowledge and gain sector insights through events and webinars, training and CPD to build your career. It provides instant sector wide recognition of your expertise as an independently verified nuclear professional. I also really enjoy receiving my copy of the Nuclear Future journal, reading about my colleagues and the great work they are achieving, keeping up to date with new developments and best practice. Being a full Member is also the first step to gaining Fellowship status if that's something you are keen on pursuing.
Looking to the future, what's next?
I'm really interested in inspiring the next generation and being a voice who helps educate people about the 2050 net zero challenge set out by government. I had the pleasure of speaking to this year's new cohort of graduates during their September induction, so engaging with early careers is a big part of that as they are the future. I'm looking forward to catching up with everyone from NNL after almost 4 years out of the main business and workwise I will be taking on several projects looking at beyond electricity applications and focusing initially on nuclear derived hydrogen for the gas networks – supporting beyond energy applications in the heath and nuclear medicine focus area too.
And finally, can you sum up your accomplishment in three words?
Honoured. Excited. Enthused.
Thanks, Robert – on behalf of everyone at NNL, great job on your achievement!
Feeling inspired?
Find out more about how to apply for a NI Membership or Fellowship.
Robert's podcast with Professor Andrew Sherry as part of the Are We Nearly There Yet? (AWNTY) series also provides great insight and is available here.
NIRO documents
*Robert produced two publications while at NIRO which may be of interest to you, firstly the Fission R&D Catalogue- Facilities, Equipment and Capacities Catalogue "Yellow pages of Nuclear" – NNL pages are pages 45-69. Secondly, the Nuclear Innovation Programme Summary Brochure, NNL pages are 14,15,16 and 46 which includes information on the Advanced Fuel Cycle Programme (AFCP).