Monday 30 May 2022
NNL makes breakthrough to address the global shortage of key medical radioisotope for fighting cancer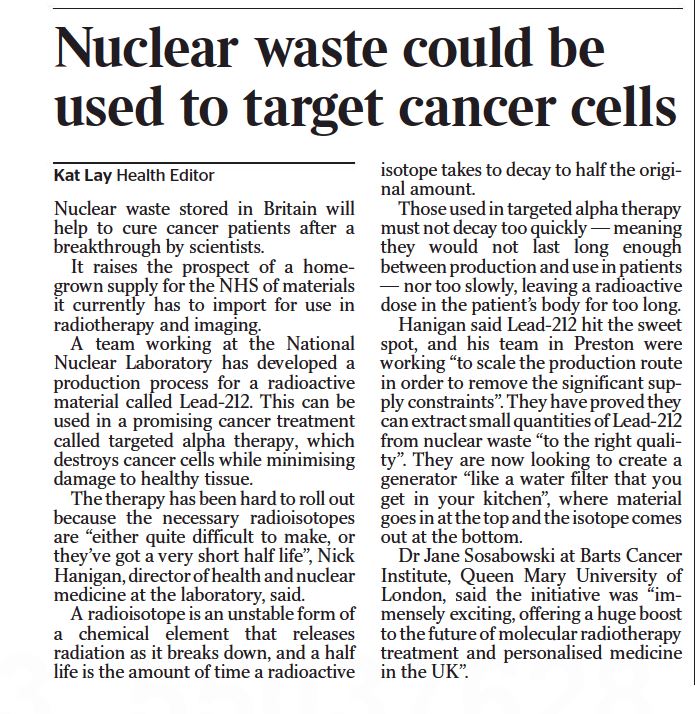 Scientists at NNL have made a breakthrough for producing Lead-212, a very important medical radioisotope for treating cancer, but which is difficult to produce and therefore in short supply.

Used in an emerging medical treatment known as Targeted Alpha Therapy (TAT), Lead-212 labelled targeting molecules destroy cancer cells while minimising damage to healthy parts of the body. TATs have gained traction because they fight cancer while limiting the side effects experienced by patients. Yet the supply of Lead-212, like other key medical radioisotopes, faces a global shortage which constrains their use, with no production route in existence in the UK.

The production process for the UK's first home-grown supply of Lead-212 has been developed at NNL's Preston Laboratory. It is currently going through quality assurance and scale-up work. To achieve this, NNL is working closely with clinicians and academics including at Queen Mary University of London and King's College London and their associated nuclear medicine departments at St Bartholomew's Hospital and Guy's and St Thomas' NHS Foundation Trust.

Dr Jane Sosabowski is Reader in Molecular Imaging at Queen Mary's Barts Cancer Institute and researcher at City of London Cancer Research UK-RadNET, one of a network of centres of excellence and state-of-the-art facilities working to tackle the major challenges of radiobiology and radiation oncology. She said:
"This new initiative is immensely exciting, offering a huge boost to the future of molecular radiotherapy treatment and personalised medicine in the UK. Barts Cancer Institute and Radionuclides for Health UK welcomes the leadership that NNL is showing on this issue. It is an important step in re-establishing UK supply of medical radioisotopes and securing the future of research in this important sphere of human health."

Dr Paul Howarth, Chief Executive Officer for NNL, said:
"Fifty years ago, the UK led the world in medical radioisotope research and production, yet today we rely on imports often from ageing facilities. Establishing a sovereign home-grown supply of these important medical radioisotopes would be transformative for healthcare in the UK and, given the global nature of the supply challenge, citizens of the other countries we supply.

"There is great demand from the healthcare profession for the UK to develop an indigenous supply of medical radioisotopes and this work is core to NNL's purpose of nuclear science to benefit society."

Nick Hanigan, NNL's Health and Nuclear Medicine Director, said:
"The production process we have developed, which requires complex chemical separation and purification of nuclear material, builds on NNL's world-leading capability in this area. Lead-212 limits the side effects of cancer treatment because it is delivered directly to cancerous cells. Our plan now is to scale the production route in order to remove the significant supply constraints currently faced by hospitals.

"This breakthrough development is a single aspect of our work on medical radioisotopes, a tool used on a daily basis by every hospital in the UK to diagnose and treat health conditions including many types of cancer, heart disease and thyroid disease and for the early detection and assessment of brain disorders such as epilepsy, Alzheimer's disease and other forms of dementia."
Mark Menzies MP, in whose constituency Preston Laboratory is based, said:
"This breakthrough will come as welcome news for cancer patients and the NHS, providing a domestic supply of this game changing treatment to the NHS as production is scaled up. This is a demonstration of the fantastic skills base and spirit of innovation at Springfields, and underlines the need to safeguard the site's future.
"As Britain ushers in a new golden age of nuclear, the NNL are demonstrating the wider benefits of the nuclear industry, extending far beyond power generation, and I hope that this will be the first of many such developments."