Thursday 23 September 2021
Our ongoing pledge to support COP26's carbon reduction goals
As the UK prepares to host the 26th UN Climate Change Conference of the Parties (COP26) in Glasgow this November, the world is focused on the urgency of the clean energy agenda.
At the National Nuclear Laboratory, we are all fully committed to helping the UK reach its net zero goals, playing a critical role in decarbonising our entire energy system.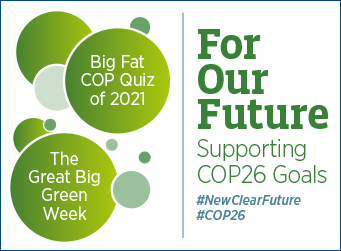 Over the coming weeks we will continue to engage with a wide range of people globally, from other international scientists to our own colleagues, policymakers, politicians, the general public and younger generations on the role that nuclear science and NNL can play to help to reach COP26's goals.
Dr Paul Howarth, Chief Executive Officer of the National Nuclear Laboratory, said:
"As the UK's laboratory for nuclear fission, we play a critical role in one of the world's biggest challenges: achieving deep decarbonisation across our entire energy system. Without nuclear, the UK will not meet its net zero goals on time – and without NNL's work, the UK nuclear sector cannot deliver what is required.
"With all eyes on the UK as hosts of COP26, we are committed to supporting the government's ambitious aims for carbon reduction. We want to help reach the summit's goals – working together with our partners and customers to influence the actions needed, ensuring nuclear science not only now but for the future benefits society.
"This goes beyond what we must achieve in the UK. As the recent global Intergovernmental Panel on Climate Change report on the urgency of the climate crisis made clear, governments across the world are going to have to up their efforts and look at all forms of solution. We are confident that we have a significant role to play in deploying our long-standing expertise to support others globally; and the chance to reposition the UK as a world leader in these technologies.
"COP26 is a crucial moment for global leaders to address one of the world's biggest challenges – protecting our planet's vital natural resources – and we will all contribute. We look forward to playing our part."