Thursday 16 September 2021
Meet nuclear graduate of the year, Sam Lyons
Sam Lyons joined NNL as a graduate in 2018 and this year was crowned Nuclear Graduate of the Year at the UK Nuclear Skills Awards. Earlier this week, Sam, who works as a Process Engineer at NNL's Central and Preston Laboratories, spoke at the NIA's first ever Nuclear Week in Parliament as part of the Nuclear Skills and Apprenticeships Fair.
Ahead of his appearance, we interviewed Sam about his experience as a graduate at NNL, the importance of engaging our next generation of young scientists, and how he feels his work is making an impact both now and for the future.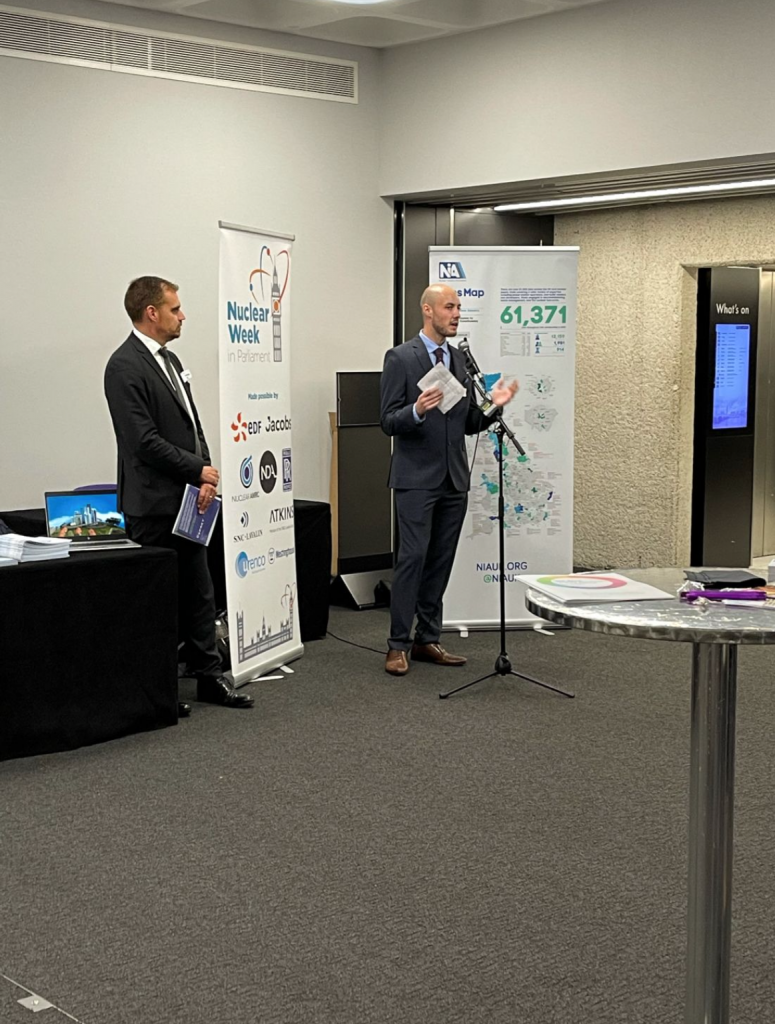 How did you get your start in the nuclear sector?
Growing up in Liverpool, maths and the sciences were always my best subjects at school and the ones I enjoyed most. When I got to Sixth Form, I wasn't quite sure what career path I wanted to go down and it was actually my maths teacher who said I should consider a career in engineering. From there, I studied Chemical Engineering at Newcastle University.
It was during my time at university that I realised my interests really lay in sustainability and so I went on to do a Master's degree in Sustainable Engineering. I knew by then that I wanted to go into a sector where my work could have a positive and meaningful impact on society – not only by helping to supply clean energy to the grid but by supporting advances in other significant areas, like health and medicine. Working in nuclear enables me to do this.
What does your day-to-day role at NNL involve?
I am a Process Engineer at NNL so a large part of my role involves considering the manufacture of advanced nuclear fuels and making sure we're continuing to recycle spent fuels as responsibly and effectively as we can. My work so far has predominantly been centred on the Advanced Fuel Cycle Programme (AFCP) – this is led by NNL on behalf of the Department for Business Energy and Industrial Strategy's (BEIS) as part of its £505m Energy Innovation Programme.
AFCP is geared towards ensuring that the UK has a clean future energy system and so it is very rewarding to know I'm helping to achieve our nation's clean energy ambitions. I split my time between NNL's Central and Preston Laboratories. At Central, we design facilities which are able to manufacture fuel pellets for research, as well as for potential advanced reactor purposes in the future. At Preston, we work on things that are slightly larger in scale – manufacturing fuel for industrial purposes for example, rather than for research.
Would you say that, as a graduate, you have been trusted to get stuck in and make a real difference from the outset?
100%. Working at NNL you're given the chance to be involved in some game-changing areas of science early on and you're treated as a trusted and valued member of the team.
As is the case across the nuclear sector, collaboration is absolutely key. What has made a difference for me is that there are always so many opportunities to engage with others in your team and learn from some of the most creative and inspired minds in our sector. You're encouraged to ask questions and everyone's really supportive.
What else have you enjoyed from being a graduate at NNL?
NNL puts a lot of emphasis on the development of its graduates, both in terms of expanding our technical understanding and capabilities within our specific job roles but also more broadly, beyond our day-to-day work. It's one of the reasons why I wanted to work here.
Something I hadn't been involved with before joining NNL but have really immersed myself in since, is Equality, Diversity and Inclusion (ED&I) work. One of my standout moments at NNL so far was when our ED&I team achieved the National Equality Standard (NES) accreditation earlier this year. It was fantastic to receive this kind of national recognition and know that we're doing everything we can to ensure our people's wellbeing and provide meaningful, rewarding careers.
As well as this, I've been able to get involved in NNL's Leadership and Management scheme, which I've just completed after three years, and am also part of the Young Engineers Forum, where I and my colleagues give support to our next generation of engineers at apprentice and graduate level.
Why do you think engaging with the younger generation is so important?
Talking to young people about opportunities in science and the careers available to them is essential to ensuring we have a strong pipeline of talent in the nuclear sector. From my own experience, I might not have ended up in engineering if my maths teacher hadn't suggested it as a potential career path for me. That's why I want to keep playing a role in those sorts of life-changing conversations.
Over the past few years, I've done a lot of work in helping to promote the sciences to young people, particularly in the North of England – whether it's been by attending STEM events for GCSE students or speaking to Sixth Formers at university science fairs. People are the currency of the nuclear sector so, in order to safeguard its future, we must make sure we're doing everything we can to attract and retain a diverse workforce.
What do you think makes a good nuclear scientist?
Someone who is enthusiastic and a team player. Everyone I've worked with in this sector is incredibly committed and understands the importance of collaboration to achieve success – whether that's by working in partnership with other national laboratories, industry, government or academia. The nuclear sector isn't for people who want to be along for the ride; it's for people who genuinely want to make a difference.
What difference do you hope NNL will make to the lives of UK citizens over the next 50 years?
Over the next 10 or 20 years, NNL's work will be crucial to developing and harnessing the new and advanced reactor technologies we need to achieve net zero by 2050. It is only by remaining at the forefront of these innovations that the UK will be able to meet its climate change targets on time and affordably. Beyond that, NNL is key to ensuring that nuclear can continue to play its part in ensuring we have a balanced and clean energy system in the UK.