Thursday 1 July 2021
UK's national laboratory for nuclear fission opens first formal base in Wales
The National Nuclear Laboratory (NNL) has formalised its research and development ambitions in Wales with the launch of a new base on Ynys Môn/Isle of Anglesey.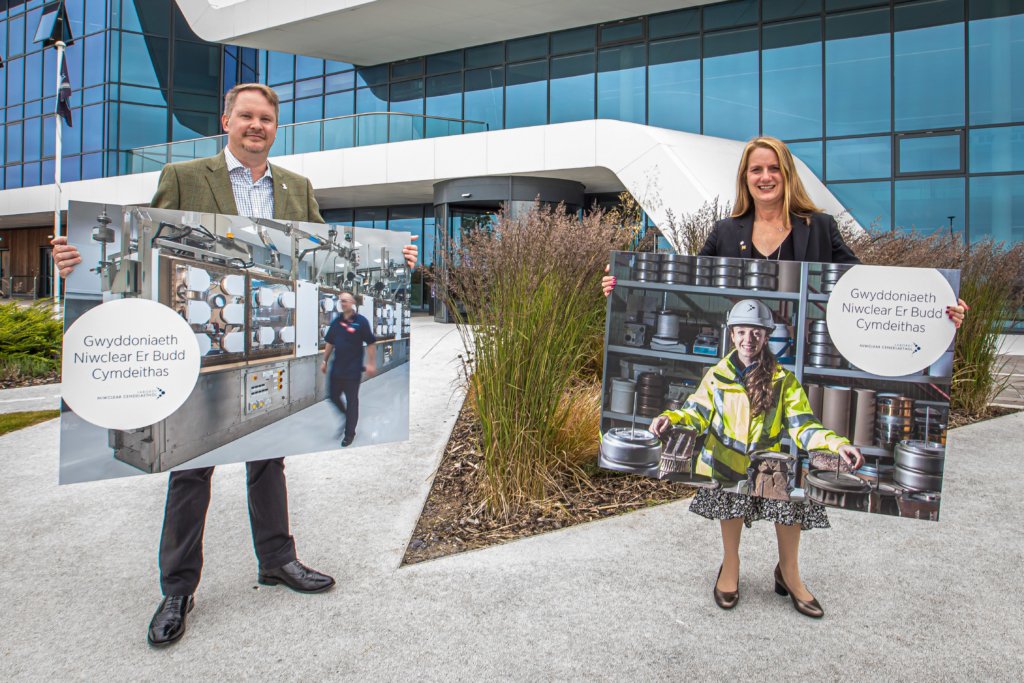 In recent years, NNL's investment in Wales has grown substantially with a series of partnerships with Welsh businesses and educational institutions, including the University of Bangor. Today's announcement demonstrates NNL's commitment to driving up innovation, investment and employment of a skilled workforce in Wales – one that will be doing so much for the UK's contribution to net zero.
The introduction of a new NNL office on Ynys Môn/Isle of Anglesey at Menai Science Park (M-Sparc) will provide a new, local base for NNL to take forward its ambitions in Wales and will help build the strong track record of Wales in nuclear technology.
Minister of State for Energy and Clean Growth, Anne-Marie Trevelyan, said:
"North Wales has played a central role in the UK's nuclear industry for many years and I'm delighted that the National Nuclear Laboratory is opening its first office in Ynys Môn, as we look to build on Wales' strong track record in nuclear technology.
"Nuclear will continue to be an important and reliable source of clean electricity, supporting highly skilled jobs across the UK and is crucial as we work towards our world-leading climate targets. The research led by the NNL in Anglesey will be crucial in finding new and innovative ways of driving forward Britain's green industrial revolution."
Virginia Crosbie, MP for Ynys Môn, added:
"This announcement is welcome news for Ynys Môn and demonstrates how nuclear has the power to bring in investment and help develop a skilled workforce in Wales.
"Without nuclear, the UK will not meet its net zero goals. This development provides a new, local base to take forward NNL's ambitions in Wales and has a great deal of potential to support the national laboratory to achieve its purpose of nuclear science to benefit society."
Welsh Economy Minister Vaughan Gething said:
"I welcome this important step being taken by NNL today to establish a presence in Wales for the first time. This is a recognition by NNL of the potential that exists in Wales and of the excellent work already being undertaken here by organisations such as Bangor University's Nuclear Futures Institute. I hope that this presence will grow over time to nurture and support research and development in other universities and R&D establishments across Wales."
Secretary of State for Wales Simon Hart added:
"This highly welcome announcement from the National Nuclear Laboratory to establish a new base in North Wales underlines the expertise and opportunities in the region to drive low-carbon innovation in nuclear technologies.
"NNL's new base will help to further cement Wales' place at the heart of the net zero transition, delivering on the ambition I set out in the UK Government's Plan for Wales.
Paul Howarth, Chief Executive of the National Nuclear Laboratory, added:
"Across the UK, we have the talent and the opportunity to be a global scientific superpower. Wales, and Ynys Môn/Isle of Anglesey in particular, is a key location for NNL as we help to drive exciting advancements within the nuclear sector.
"In recognition of the impact and value of Wales – and its ongoing focus as a centre of nuclear development – we are ramping up our commitment to the area and its economy with the introduction of a new NNL office on Ynys Môn/Isle of Anglesey.
"We hope it will grow into a key location for our work; harnessing nuclear science to help solve some of the world's biggest challenges – from achieving deep decarbonisation to delivering lifesaving healthcare.
NNL supports over 1,100 high-skilled, high-paid jobs across the UK's nuclear sector, as well as nurturing the next generation through apprenticeship, graduate and post-Doctoral programmes. Last month NNL launched its Strategic Plan, which sets out how the UK's national laboratory for nuclear fission will benefit society through nuclear science.
---