Thursday 25 February 2021
NNL Guest Edits International Newsletter
The Generation IV International Forum (GIF) has published the most recent edition of its monthly newsletter which features several significant contributions from NNL staff.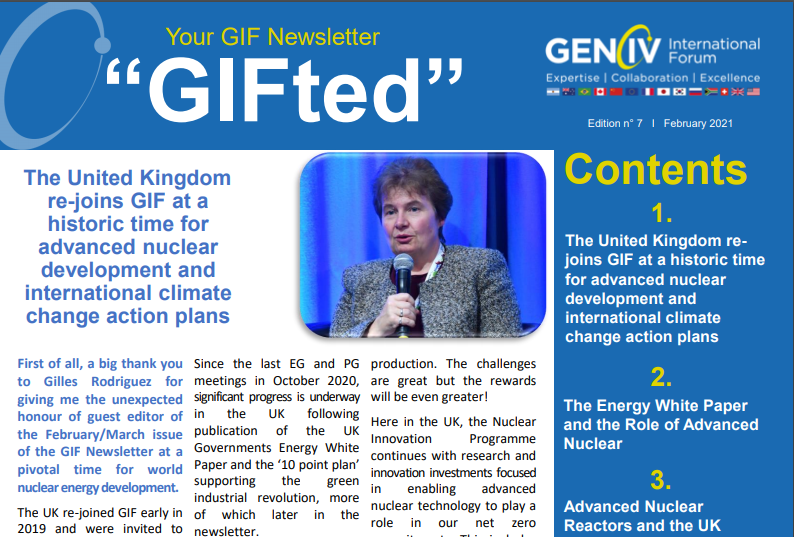 With our Chief Science and Technology Officer, Dr Fiona Rayment guest editing, the international newsletter features special contributions from three other NNL scientists: Dr Nicholas Barron, Technical Lead for Fast Reactor Fuels, Caroline Longman, UK Government Account Director, and Dr Dave Goddard, Fellow in Fuel Manufacturing.
Created in 2001, GIF brings together 13 countries to coordinate the research and development of fourth generation advanced nuclear systems. To ensure members can stay up to date on GIF's progress, as well as on any standout developments in the field, each month GIF publishes a digital newsletter for the benefit of those involved in or interested in the sector.
In this month's edition, articles discuss the role advanced nuclear can and should play in the government's recently published Energy White Paper and in the UK Hydrogen economy.
Dr Fiona Rayment, Chief Science and Technology Officer at NNL, said:
"I was honoured to take up the mantle as guest editor for this month's GIF newsletter. I hope that the issue gives readers more of an insight into the conversations being had around nuclear in the UK and how we are working towards a green industrial revolution. This truly is a pivotal time for nuclear energy development across the world and I am proud to contribute to GIF's work in ensuring advanced nuclear technology can help deliver on our net zero commitments."