Friday 19 June 2020
New WiN UK volunteers join Executive Committees
NNL, as industry sponsor, are delighted to join WiN UK in welcoming 16 new recruits to roles in their Executive Committees, after a successful recruitment campaign earlier this year.
Lynsey Valentine, WiN UK President, said:
"Despite the challenging circumstances that we all find we're working in, our new volunteers are showing amazing enthusiasm, working with WiN UK Executive Leads and Regional Teams on activities that can help improve the gender balance in our industry.
"Ultimately, it's the people in our industry that can make change happen. These new team members are joining us from a wide variety of employers and range of different posts, which significantly increases our diversity of thought and extends our reach. Their energy will be vital as we shape WiN UK and take our work forward. I've been so impressed with the rich skillsets that each of our new volunteers offer as well as their obvious strong motivation.
"I want to offer massive congratulations to all our successful applicants. I am hugely grateful to every one of them for offering their time and expertise to support our mission. I also want to thank NNL, our industry sponsor, for helping us with this successful recruitment campaign."
WiN UK's Patron, David Peattie, said:
"I'm really delighted to see the WiN UK team of volunteers strengthened with such talented individuals from across the industry. Their commitment to the WiN UK mission is a reflection of just how many people are recognising the importance of improving gender balance in our sector. Together, we can all make a difference. WiN UK is a vital force in making change happen."
NNL's Head of Skills and Development, Olivia Thompson, said:
"I'm delighted that so many new recruits are taking up positions that will have a significant impact on the future of WiN UK and its activities across the UK. Not only does it show that there is real passion for gender equality in the industry but it shows that people are willing to stand up and be counted and to promise to actively do something to make real and lasting change. WiN UK is now in excellent shape to thrive and deliver real change in the nuclear industry and both NNL and I will be there with them all the way."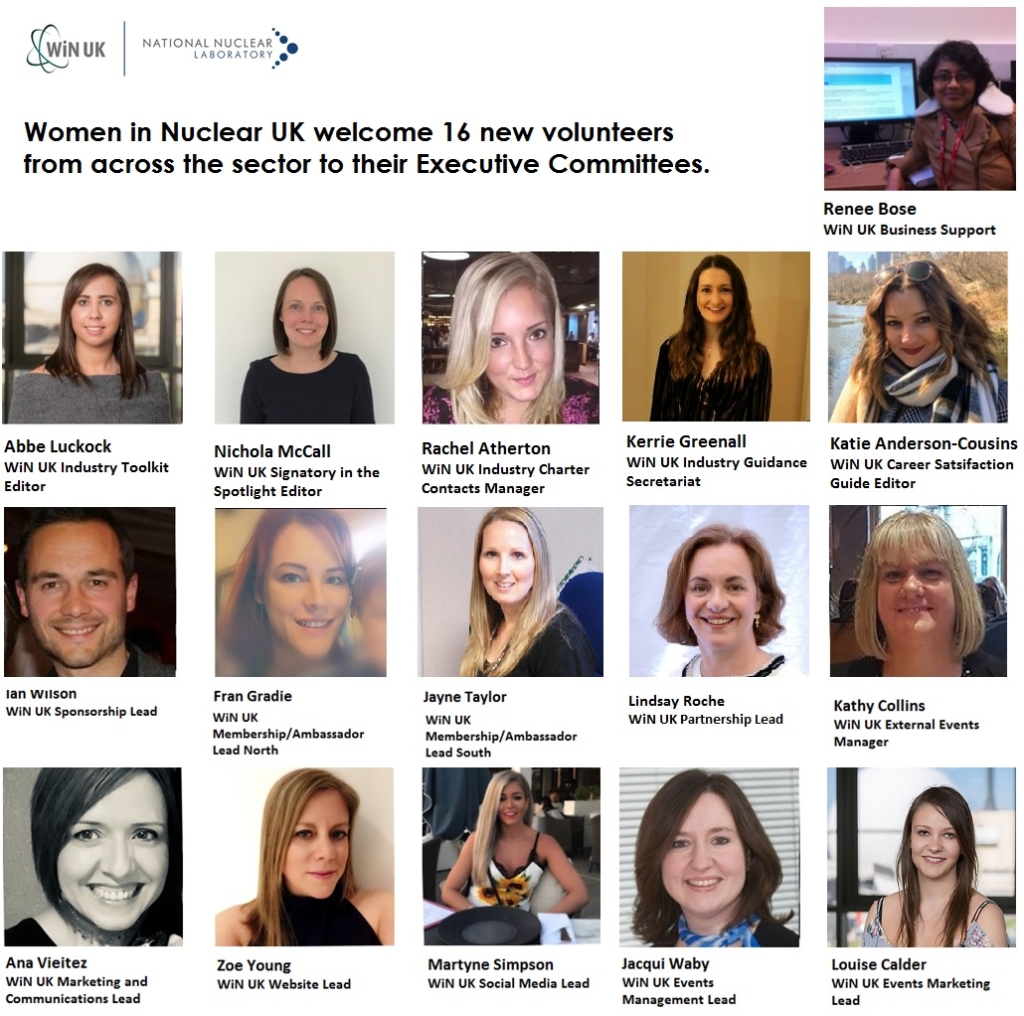 We're delighted to announce the following appointments to WiN UK:
Renee Bose from Cavendish Nuclear – Board Business Support
Joining the Communications Executive Committee:
Ana Vieitez from EASL – Marketing and Communications Lead
Zoe Young from Magnox – Website Lead
Martyne Simpson from Atkins – Social Media Lead
Joining the newly formed Events Management Executive Committee:
Jacqui Waby from Jacobs – Events Management Lead
Louise Calder from Dounreay – Events Marketing Lead
Kathy Collins from Direct Rail Services – External Events Manager
Joining the newly formed Business Development Executive Committee:
Ian Wilson from Atkins – Sponsorship Lead
Fran Gradie who is Independent – Membership/Ambassador Lead North
Jayne Taylor from Magnox – Membership/Ambassador Lead South
Lindsay Roche from Westinghouse – Partnership Lead
Joining the Industry Guidance Executive Committee:
Kerrie Greenall from Cavendish Nuclear – Industry Guidance Secretariat
Nichola McCall who is Independent – Signatory in the Spotlight Editor
Abbe Luckock from Dounreay – Industry Toolkit Editor
Katie Anderson-Cousins from Magnox – Career Satisfaction Guide Editor
Rachel Atherton from Assystem (AXIOMJV) – Industry Charter Contacts Manager