Thursday 3 October 2019
NNL Welcomes Workington MP Sue Hayman to View Innovative Decommissioning Work
On Monday 30 September we were delighted to welcome Workington's local MP, Sue Hayman, to our Workington facility. Sue took some time away from her busy Westminster role as Shadow Secretary of State for Environment, Food and Rural Affairs to visit – and was particularly interested to see the Centre for Innovative Nuclear Decommissioning (CINDe), having opened the Centre almost exactly a year ago.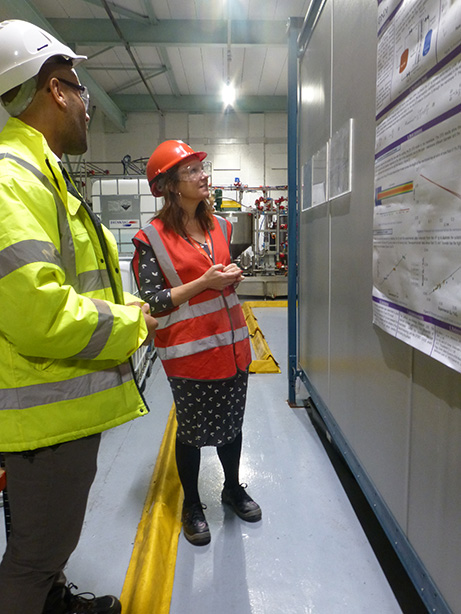 Sue has a keen interest in nuclear matters, too, as co-chair of the All Party Parliamentary Group on Nuclear Energy.  She toured around the facility meeting NNL colleagues and students from the CINDe programme.
Sue commented:
"The Centre for Innovative Nuclear Decommissioning at the National Nuclear Laboratory in Workington is doing a great job in bringing new talent to the industry, as a hub for PhD research. I was proud to open the centre last year, and I came back to see what the research students have been doing and how CINDe is continuing to strengthen the nuclear industry skills pipeline in West Cumbria.
I was tremendously impressed with both the innovative work I heard about and with the enthusiasm of everyone I met, from both NNL and the academic partners.
The nuclear decommissioning industry is a major part of the West Cumbrian economy and, as co-chair of the Parliamentary group for nuclear, I am particularly keen to support the development of skills and expertise that will make our area a centre of nuclear excellence for the future."
CINDe, based in NNL's Workington facility, aims to nurture high impact research that has ground-breaking potential for industrial applications. Led by NNL – and in partnership with Sellafield Ltd and a network of Universities that includes the University of Manchester, Lancaster University, the University of Liverpool and the University of Cumbria – the centre is the first of its kind.