Thursday 21 March 2019
Fingers Crossed – Three Times Over – for NNL at Nuclear Skills Award
Tonight sees the Annual Nuclear Skills Awards Dinner in Manchester – one of the major events in the nuclear industry calendar. We are delighted and proud that this year – for the first time – NNL has no fewer than three of our colleagues shortlisted for these prestigious awards. All three have fought off stiff competition to get this far and we will be keeping fingers tightly crossed that we will see them on the stage as winners tonight.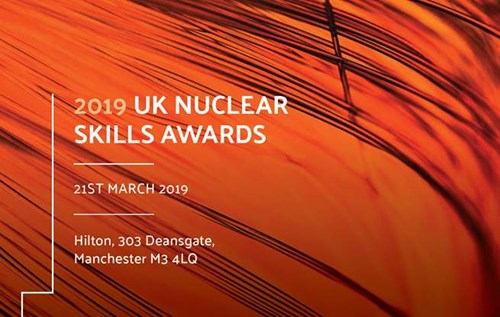 Frazer Hawthorne is in the running for the Scientific Apprentice of the Year award. One of Frazer's major achievements which led to his nomination was his work planning and subsequently completing a research project, in collaboration with Imperial College, looking at irradiated fuels that had been stored for several decades within a fuel storage pond. The work was published in the Journal of Nuclear Materials where Frazer was named as a co-author. He commented:
"I was really proud to be recognised by NNL and put forward for the Nuclear Skills Awards. I was extremely happy when I found out I had made it past the competitive shortlisting stage and reached the final round."
Deb Hill is nominated for Subject Matter Expert of the Year as a result of the respect she commands at an international level as a criticality safety expert, where her expertise and authority are held in the highest regard. Deb is also passionate in her long-standing commitment to support the development of others, through her management and mentoring activity. Deb said:
"It's great to see this new Subject Matter Expert award introduced for 2019. I'm extremely passionate about the work which SMEs do across the sector in transferring skills and knowledge to the next generation of SMEs, but I never expected to find myself short-listed for the Award. I'm really surprised and humbled!"
Henry Preston is shortlisted for Scientific Graduate of the Year. Henry works with NNL's Graphite, Fuel and Endoscopy teams on Post-Irradiation Examination of nuclear fuel and reactor components for a number of key customers. In addition he was secretary of the Technical Skills Board for two years, he was part of the NNL team which placed second in the UK- France 2018 Spark! contest, and he's maintained links back to his old university, Queen Mary University of London, giving a lecture and running a group project for 3rd year students. Henry said:
"The nomination was a surprise, so to be shortlisted is an even bigger shock! But I am delighted, and looking forward to what will be an awesome night. I really want to say a massive "thank you" to all those I've worked with for all the support they have given me".
Good luck to Frazer, Deb and Henry!