Friday 1 February 2019
NNL's Reputation Receives International Recognition
The international standing and reputation of the UK's National Nuclear Laboratory (NNL) have been highlighted in Japanese TV and newspaper coverage this week. The media have reported on a workshop held in Tokai on 28-30 January to help determine the most appropriate technology to address retrieval operations in Highly Active Silos (HAS) in the Tokai Reprocessing Plant operated by Japan Atomic Energy Agency (JAEA).
JAEA visited the UK recently and recognised strong similarities between their own project and pond or silo retrievals projects here at sites such as Dounreay and Sellafield. As a result, NNL were invited to head up a collaborative UK team which came together to assess three technologies, all of which have been used in the UK, for their suitability to address the Japanese challenge. The technologies in question are the Silo Retrivals technique developed by Veolia Nuclear Solutions (formerly OTL), Remotely Operated Vehicle (ROV) solutions from James Fisher Nuclear and SONAR systems from FORTIS Engineering.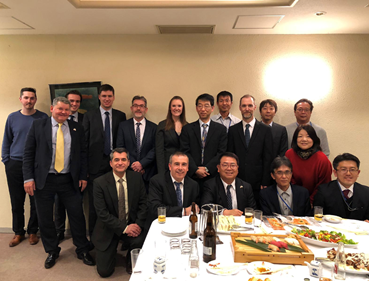 Nuclear Decommissioning Authority and Sellafield experience is also being accessed via NNL with the support of International Nuclear Services (Japan).
NNL's selection reflects our long track record of support to similar UK challenges, the depth and breadth of our experience in the field and – crucially – our ability to provide authoritative, independent and objective advice. This advice will help to support JAEA in their decision making regarding retrieval technologies.
Kat Lennox – NNL's Account Director for Japan – commented:
"We are delighted to be building on our important and long-standing links with JAEA through this project and we very much hope that our relationship will strengthen and flourish through the work. The TV coverage of the NNL-hosted workshop highlights the importance of this work in Japan and the level of interest from the public and other stakeholders in ensuring that the HAS silos are successfully and effectively cleared."
Keith Franklin – First Secretary (Nuclear) in the Department for International Trade at the British Embassy in Tokyo – added:
"We are delighted with the success of the workshop. It is further evidence of the strengthening partnership between the UK and Japan on civil nuclear matters, and really demonstrates how experience gained in cleaning up the UK's nuclear legacy has real value elsewhere in the world"
The workshop this week builds on the comments made in the House of Commons recently by Secretary of State for Business, Energy and Industrial Strategy, The Rt Hon Greg Clark MP, who said that the UK will:
"…continue to strengthen our long-standing partnership with the Government of Japan on a range of civil nuclear matters."
The Japanese TV footage can be seen here: https://www3.nhk.or.jp/lnews/mito/20190128/1070005305.html
The attached photograph shows the UK team and their Japanese hosts.