Thursday 29 November 2018
Natalie Scoops National Apprentice Title
NNL's North West based Natalie White took top honours last night in a prestigious National Competition to celebrate Apprentices in the UK.
Natalie, an Early Careers Advisor at National Nuclear Laboratory, won the Royal Air Force Award for Apprenticeship Champion of the Year 2018 which was announced at a ceremony in London last night.
Natalie, from Leyland, said:
"I am over the moon to have won this award: I am passionate about promoting apprenticeships because they offer young people a route through to a rewarding and valuable career and I hope my winning this award inspires more people to consider Apprenticeships as a career option."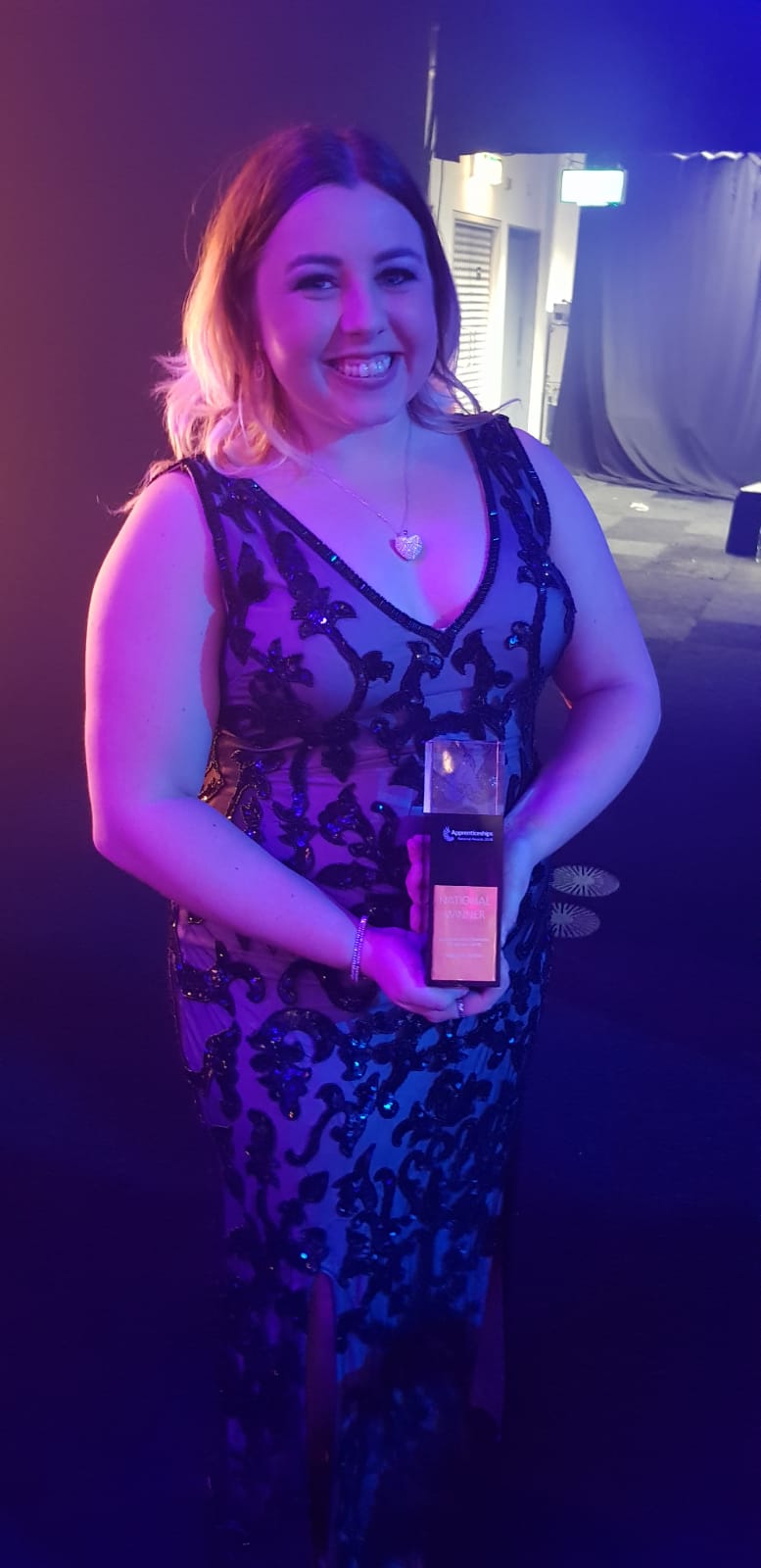 This year, the 'Excellence in Apprenticeships' themed Awards ceremony showcased individual and employer success stories, recognising apprenticeships as a fast-track to a great career and enabler of business growth.
Now in its fifteenth year, the awards are the largest and most prestigious celebration of apprentices and apprentice employers across the country with previous winners experiencing a variety of benefits following their success.
Paul Howarth, NNL's CEO, said:
"Natalie is a true ambassador for Apprenticeships and she epitomises everything they represent: in her work for NNL she is a passionate supporter of their development and we are grateful for everything that she does for us. Everyone at NNL sends her their congratulations – very well deserved."
Apprenticeships and Skills Minister Anne Milton said:"A huge well done to all the winners, finalists and rising starts! I have met so many apprentices up and down the country and all of them stars in their own right. Their passion for what they do, their determination to get things done and their drive to get on is so impressive. The winners tonight will have stepped out of their comfort zone to learn new skills and many will have changed the direction of their life. Congratulations to them all and they should be very proud of all they have achieved."
The 2018 National Apprenticeship Awards included over 1100 apprentices, employers and individuals from across England, from over 200 English towns and cities.
Education Secretary Damian Hinds said:
"Apprenticeships are an excellent way for anyone to gain new skills and forge a career in anything from aerospace engineering to nursing. The National Apprenticeship Awards is a fantastic event to celebrate the achievements of apprentices, employers and training providers, and I want to wish all the winners and nominees congratulations on their incredible efforts."
-End-
Notes to Editor
For more information and to arrange an interview please call Kate Atha on 07548 723923
The National Apprenticeship Service
The National Apprenticeship Service supports the delivery of apprenticeships in England. It offers free impartial advice and support to employers looking to recruit for the first time or expand their apprenticeship programmes. This includes simplifying the process of recruiting an apprentice through the support of employer focused teams.
Through the find an apprenticeship site on GOV.UK employers can advertise their vacancies and potential apprentices can apply. Call 0800 015 0600 or search for apprenticeships on GOV.UK to find out more.
The National Apprenticeship Awards
Now in their fifteenth year, the National Apprenticeship Awards are an opportunity to highlight the many success stories and the benefits of apprenticeships.
There are three Employer of the Year categories (SME, Large, Macro), a Recruitment Excellence Award open to apprentice employers from all sectors and a Special Recognition Award.
Recognising individual successes, there are three Apprentice of the Year categories (Intermediate, Advanced, Higher/Degree level) as well as a Rising Star Apprenticeship Champion of the Year award