Friday 6 July 2018
NNL Finalists Sparkle in International Competition!
NNL finalists in an Anglo-French competition celebrated in Paris last week when they gathered to hear the results announced.
Henry Preston, Allan Simpson and Hannah Fenwick, who are all graduates at NNL, were one of 15 short-listed teams to make it to the final, beating more than 60 other entries in the process.
And last week they gathered with hundreds of nuclear professionals and academics from around the world, to hear that they were awarded second place in the highly-regarded contest
The award ceremony took place at this year's World Nuclear Exhibition in Paris.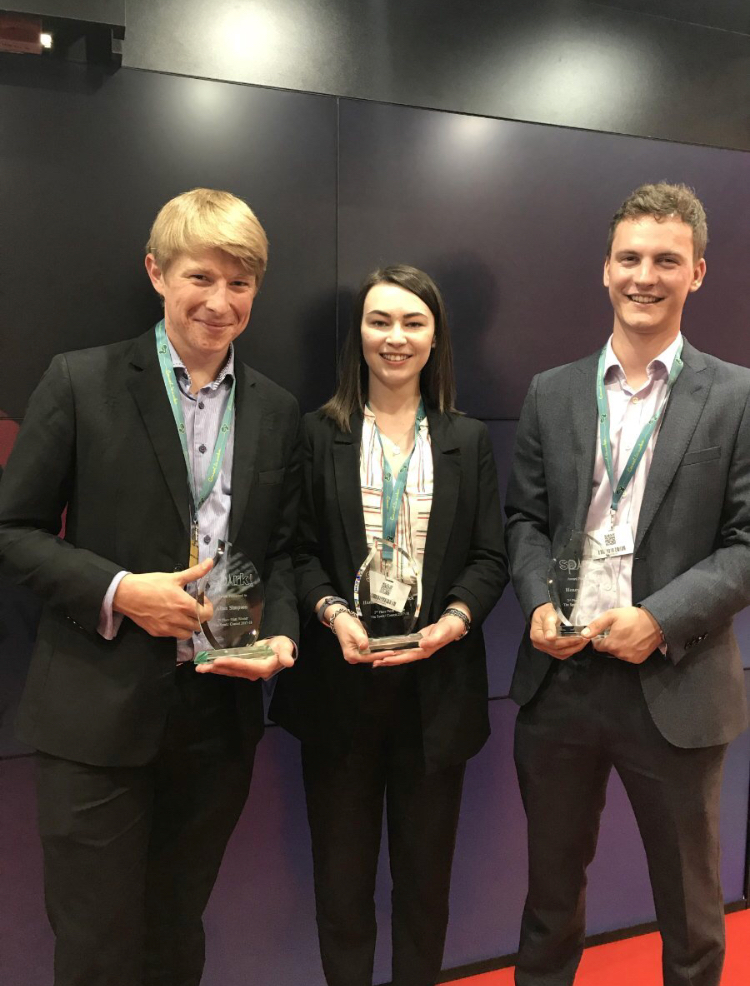 Spark! is an annual competition open to people under 30 who work or study at UK or French nuclear companies and academic organisations. It is a paper writing contest where a new question is set each year. Next year, the winners will be announced at an event in London.
This year, teams had to answer the question: "The Energy Transition – What is the role of nuclear technology in a world of growing alternative power and digital innovation?"
Hannah Fenwick, said: 
"It was an honour to represent NNL and to place 2nd in the Spark! contest. Participating was a great opportunity and writing the paper with fellow graduates was a good experience of team work. We also received a lot of support from our Spark! mentors and our unofficial mentors at NNL who really kept us enthused."
Allan Simpson, said:
"Being able to think about some of the wider issues facing our industry was a fascinating privilege. What was even more refreshing was seeing that a number of the ideas we developed in our paper were the same ideas and themes being talked about at the World Nuclear Exhibition. Spark! is a great opportunity and I'd thoroughly recommend anyone eligible to enter next year's contest."
Henry Preston, said:
"I am over the moon to have placed second in the competition. Spark! gave us an awesome opportunity to network with British and French colleagues working in nuclear. Writing the paper was thoroughly enjoyable as the topic was interesting and got us thinking about the big picture. Many thanks to everyone who read our paper and gave advice."
Paul Howarth, CEO at NNL, said:
"The Spark! contest is a great initiative, bringing young British and French nuclear professionals together in a unique way, and I'm delighted that NNL has such a good track record in the competition. The contest always attracts really high quality entries and it's very pleasing to see that Hannah, Henry and Allan did so exceptionally well in a very strong field. On behalf of NNL, I congratulate them and all the other contestants."
To get to the final, the successful NNL trio, took part in workshops, worked with mentors from industry and government and heard from leading figures a cross the energy sector about how to construct their arguments. NNL has had winning teams in previous years and had a strong presence this year with 7 NNL teams submitting 500 word abstracts as entries to the contest.