Friday 17 March 2017
Natalie Wins Coveted Nuclear Skills Award
Congratulations to Natalie White from NNL's Human Resources team who was a winner at last night's ninth annual UK Nuclear Skills Awards in Manchester.Natalie was among a strong group of four NNL contenders that also included Mithila Manage, James Rothwell and Dan Whittaker.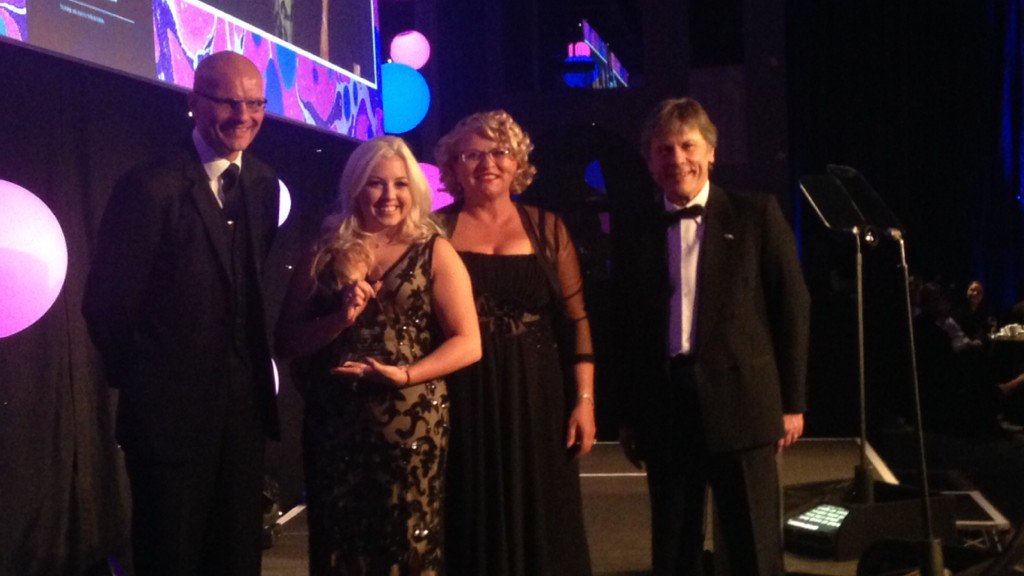 Natalie was named Foundation Degree/Higher National Diploma (FD/HND) Student of the Year. She was joined on stage to receive her award (left to right) by NNL CEO Paul Howarth, Women in Nuclear (WiN) UK President Jack Gritt and legendary rock singer Bruce Dickinson famed for his membership of Iron Maiden.Mithila was a finalist in the Science Technology, Engineering and Mathematics (STEM) Ambassador of the Year category while James was a Maintenance Apprentice of the Year finalist. Dan competed in the Post Graduate Student of the Year category. All four NNL finalists attended the event and were awarded runners-up prizes.  The Awards, a close collaboration between the National Skills Academy Nuclear and Cogent, are aimed at people starting out in their careers in the nuclear sector. Winners and finalists are judged to have had an immediate impact and are already going the extra mile and becoming excellent role models for newer starters. Many companies put forward nominations and were in attendance at the Awards dinner. Since joining NNL, Natalie has achieved exceptional progress both in her academic studies and within her role. She has taken on responsibilities above and beyond her grade and made the most of her opportunities to develop both her HR and behavioural skills. As a result she has grown in confidence and works well with people at all levels in the NNL business.
Natalie's line manager and Talent Business Partner Lynn Appleton said:
"Natalie's work ethic and achievements are an inspiration for young people both within HR and the wider business and she encourages others to look for opportunities to develop their skills." It was a proud night for Natalie, Mithila, James and Dan. Congratulations from NNL to Natalie on her tremendous achievement and to the others for coming so close.