Wednesday 5 October 2016
NNL Hosts CEA, key French R&D and innovation player, at Sellafield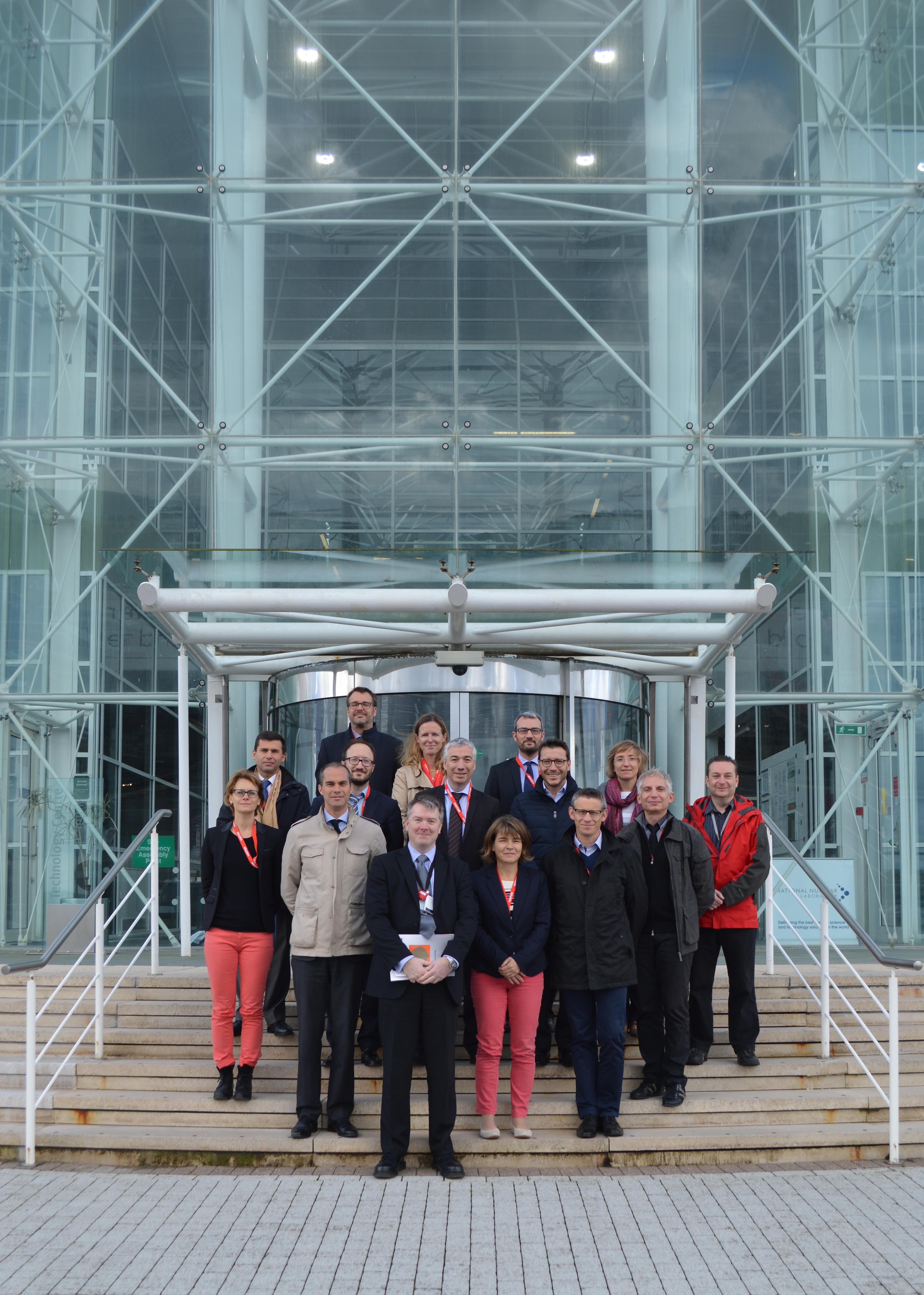 NNL's Charles Potter and Tim Tinsley with the CEA CFS group outside Central Laboratory
France and the United Kingdom pledged to respond to the present and future energy challenges through the Franco-British declaration on energy, signed on the 17th February 2012. Within this declaration, both Governments agreed to cooperate in the area of research and development (R&D) programmes, with collaboration between the Commissariat à l'Energie Atomique et aux Energies Alternatives (CEA) and NNL in preparing common research programmes. As part of this collaboration NNL was asked recently to host a group of senior leaders from CEA at our Central and Windscale Laboratories in Cumbria on 30th September 2016.
The leaders from CEA were part of a high profile programme called the Cycle de Formation Supérieure (CFS), which was created by CEA in 1987. The purpose of the CFS is to prepare future decision-makers to be effective in their future executive positions. They follow a 5-week programme, with 4 weeks at CEA facilities in France and one week abroad. This overseas week is to broaden the group's vision of international research, to enable an understanding in cultural differences and methods leading to a more effective approach to international collaborations. This year the UK was selected for the final week, due to our current renaissance in nuclear. In particular CEA wanted to visit NNL due to our role as both the UK's Government's and Industry's national laboratory.
Following their visit to Cumbria, NNL received thanks on behalf of the UK's French Ambassador. Charles Potter, Director for Reactor Operations Support led the visit and said:
"It takes a considerable team effort to accommodate visits like this and I'd like to thank everyone who helped make this visit a success. Throughout the tour there were many questions asked about collaborative work. We've also had some great feedback from the French Embassy in London that the visit was interesting and thought-provoking particularly when the group realised that although NNL is Government owned, it operates on a fully commercial model with no direct funding from Government. They were also keen to understand how we prioritised our earnings to reinvest in customer and internal research and development. We will continue to build on our relations with CEA through our steering group, co-chaired by Fiona Rayment and Andrew Sherry. We now have the opportunity to build on key areas of R&D collaboration and also work towards a reciprocal visit to the French facilities in the near future".