Sunday 25 May 2014
Women in Business Award for Colette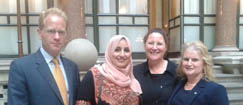 NNL's Dr Colette Grundy (Principal Scientist, Safety Management – pictured on the far right) attended the Middle East Association's Women in Business awards, hosted by Baroness Symons, after being nominated for her technical work in leading a workshop on the safety of nuclear reactor designs held in Jordan earlier this year.
NNL is delighted that Colette was placed in the Top 3 for women who have made a significant contribution to the development of business between the UK and the Middle East and Africa and was presented with an award certificate by Foreign Office Minister Alistair Burt.
The following is an excerpt from her nomination:
"Dr Colette Grundy is playing a leading role in the future development of nuclear energy within Jordan. Dr Grundy is a nuclear safety expert working as part of a UK scientific team assisting Jordan to develop its nuclear energy programme. Most recently Dr Grundy has advised Jordan on the safety of nuclear reactor designs and led a 3 day technical workshop for senior Jordanian government officials held during April 2013 in Amman, Jordan. Dr Grundy has advised on the safety requirements for nuclear reactors, the regulatory requirements to independently assess and assure the safety of any new nuclear reactor designs planned to be built in Jordan, and how members of the Jordanian public can be consulted transparently on nuclear safety.
Dr Grundy's advice will make an important contribution to assuring the long term safety of nuclear energy in Jordan, as its nuclear reactors operate safely and securely over the next 40 years.
As an internationally respected nuclear scientist, Dr Grundy has helped to raise the profile of women in the nuclear industry. Dr Grundy is a role model encouraging much needed interest in the nuclear industry from women and helping to promote low carbon energy technology."