Sunday 25 May 2014
Top Nuclear Scientist on Board at NNL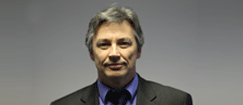 The UK's National Nuclear Laboratory (NNL) is pleased to welcome Dr Richard Stainsby, who joins as Chief Technologist in the Fuel Cycle Solutions business.
Richard arrived in NNL on 1st March from Amec, where he was a Consultant in the areas of Heat Transfer, Fluid Flow and Advanced Reactors.
Prior to working at Amec, Richard held senior technical roles at Serco and AEA Technology, and he has vast experience of working on a range of reactor types, including the UK's Advanced Gas-Cooled Reactors (AGRs), fast reactors and modern advanced water-cooled reactors such as the Westinghouse AP1000 design. 
Richard is also widely recognised internationally, and was elected Chair of the Generation IV Gas Cooled Fast Reactor System Steering Committee in 2010. He has presented lectures in various countries on the fluidics and thermal hydraulics of nuclear reactor systems.
Chief Technologists help support and expand NNL's technical leadership and capability across key business areas. In addition to Richard in Fuel Cycle Solutions, Anthony Banford represents Waste Management and Decommissioning and Jonathan Hyde Reactor Operations Support. In addition, Mike Angus is Chief Technologist for the NNL corporate area.
Commenting on Richard's appointment, NNL's Director of Fuel Cycle Solutions, Dr Fiona Rayment, commented: "I am delighted that Richard has chosen to join NNL and I know that we will benefit greatly from his enormous talent, experience and enthusiasm.
"Whilst there is a lot of focus on the prospects for UK new build at the moment, there is also a growing interest in the potential use of advanced reactor systems and associated fuel cycles based on – for instance – fast reactor technology, thorium fuel or molten salts.
"Richard's appointment strengthens our position still further in terms of our ability to offer technical support and advice to customers in areas such as this."
Chief Technologists represent an essential component in driving the future direction and growth of NNL. They reflect the determination in NNL to identify and deliver the best available science and technology to serve customers and other key stakeholders.