Sunday 25 May 2014
NNL Wins Prestigious Safety Award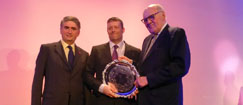 NNL is delighted to announce that we have been selected as the Winner in the Research and Development category at the annual Royal Society for the Prevention of Accidents (RoSPA) Awards for 2014. 
This is the 8th time in 11 years that NNL has been chosen as the winner in this highly-competitive category. 
NNL's Managing Director Paul Howarth commented:
"Recognition of our approach to safety management in this way is a tremendous achievement. All the more important in our industry, where safety – whether of workers, the public or the environment – is always of paramount importance. This award is a reflection of the hard work and commitment to safety from every one of our employees."
RoSPA, a registered charity, is at the heart of accident prevention in the UK, and around the world, for almost 100 years. The Sector Awards are the pinnacle of RoSPA's recognition of truly excellent companies. To win, a company must provide evidence across a range of indicators of good safety practice, including: 
Accident and ill health reporting
Substantial accident-free runs
Sickness absence
Continuous improvement through areas such as near miss reporting, training and behaviour
Managing key areas of risk such as occupational road safety, asbestos, site transport, manual handling, stress, slips, trips and falls
Occupational health – including measures to control health risks and the promotion of health and well being
Management of contractors and sub-contractors – including procedures for selection, control and monitoring 
The awards are not just about box-ticking and statistics – RoSPA also look a company's total approach to safety in all its forms. 
Image shows NNL's Head of Environment, Health, Safety and Quality, Mark Edmiston, receiving the award.