Sunday 25 May 2014
NNL Wins Major Dounreay Contract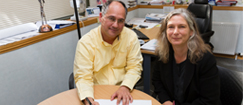 NNL is delighted to have been awarded a major contract by Dounreay Site Restoration Limited (DRSL) to process a number of tonnes of uranium carbide fuel, currently held at the site.
NNL's Business Leader for Waste Management Technology, Myrian Wood, signed the contract, which at around £750k represents NNL's biggest single piece of work for Dounreay, along with Charlie McVay, Dounreay's Project Director for Waste.
Processing of this fuel will convert it to the oxide form for long term storage, which is a necessary step to allow shutdown of the site's fuels facilities.
Under the contract, the material will be transported to NNL's Central Laboratory on the Sellafield site for pre-treatment, while the main processing will ultimately be carried out in the NNL Preston Laboratory.
NNL's Waste Management and Decommissioning Director, Nick Hanigan, said:
"This is excellent news for NNL as Dounreay is the second largest decommissioning market in the UK.
"We are pleased to have the opportunity to work with DRSL in this way and hope to have further discussions on other ways in which we can help them meet the challenges of accelerating the site's decommissioning programme."
Charlie McVay of DRSL commented: "This is an important step in the processing of depleted and natural uranium materials at Dounreay.
"The contract with NNL will process this fuel material in a  cost effective manner and help keep Dounreay on schedule towards decommissioning of facilities containing uranium fuels."