Sunday 25 May 2014
NNL Welcomes Mark Menzies MP to Preston Laboratory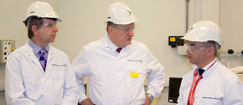 The UK National Nuclear Laboratory (NNL) was pleased to welcome Mark Menzies MP to its Preston Laboratory recently. Mark is the Conservative MP for the Fylde constituency which includes Westinghouse's Springfields site, where the NNL Preston Laboratory is located. He is also Parliamentary Private Secretary (PPS) to Energy Minister Charles Hendry, MP, who is a key decision-maker in a wide range of issues affecting the UK nuclear industry.
Mark visited NNL's Preston Laboratory following one of his regular meetings with the Springfields site management, and took the opportunity to meet with NNL managers as well as taking a tour of the Preston Laboratory facilities.
Following his visit, Mark commented:
"I was very pleased to pay my first visit to the National Nuclear Laboratory's Preston Laboratory, situated on the Springfields site. My support for the nuclear industry, and those in my constituency who work in the industry, is well known, and it was fascinating to see the wide range of facilities which NNL have here and the variety of work being carried out. I knew beforehand that NNL were doing work to support Westinghouse on the Springfields site, but it was also pleasing to see how much work NNL are doing for other customers such as Sellafield Limited. 
I was also delighted to hear about the good work NNL are doing on skills, training and their apprentice programme. It's very important to me that we see new high-quality jobs being created in the region, alongside the existing employment opportunities."