Sunday 25 May 2014
NNL Partnership on Groundbreaking LaserSnake2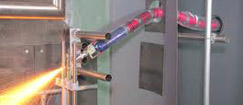 The UK's National Nuclear Laboratory (NNL) is pleased to announce that it has become a partner in an exciting collaborative R&D project worth £8 million.  LaserSnake2 will develop lasers and robot carriers to create safe, cost efficient cutting tools for high hazard confined spaces.
LaserSnake2 is led by OC Robotics and is funded by the Technology Strategy Board, the Department of Energy and Climate Change (DECC) and the Nuclear Decommissioning Authority (NDA).
The UK Government is adding support by contributing around £5.8 million to the project consortium with the remainder being industry funded. The project shares some of the £31 million funding announced by UK Secretary of State for Business, Innovation and Skills Vince Cable to support the development of the nuclear supply chain.
NNL has access to some of the most advanced nuclear research facilities in the world and will initially establish a demonstration laser cutter in its Workington Laboratory. The facility provides a non-radioactive engineering and rig testing service for customers. Future development work will see NNL deploy a robotic arm deployed laser cutter in a radiation environment in its Windscale Laboratory located on the Sellafield site inWest Cumbria.
The primary objectives of LaserSnake2 are: 
Development of laser cutting optics for safe, remote cutting in air and in water (particularly focused on nuclear decommissioning)
Consideration of the regulatory and certification issues associated with tele-operated delivery of laser cutting solutions for the nuclear sector
Development of conventional industrial robots and long reach snake-arm robots for hazardous and confined spaces, both in air and underwater
Combination of robotics and sensors to create a platform for exploration of complex workspaces.
NNL Business Leader Alan Grant said: "The LaserSnake2 technology has solid potential both inside and outside of the nuclear sector. It will come into its own in applications requiring work to be carried out in confined spaces. Areas outside of nuclear include oil and gas, construction and other sectors such as aerospace."
Research will focus on the underlying technical challenges including software control, electronics, process development and onsite demonstrations. Success will be measured both in terms of progress towards developing a tool kit for the nuclear sector and the non-nuclear markets.
NNL and OC Robotics are joined by partners Laser Optical Engineering (LOE), TWI and ULO Optics. OC Robotics provides expertise in snake-arm robots and has been working with customers across many sectors. LOE has a history of successfully developing novel laser beam shaping solutions. TWI has a world class reputation for laser processing and welding systems development and ULO has a long history of developing beam delivery heads and optics.