Sunday 25 May 2014
NNL Launches Scientific Journal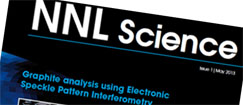 NNL is pleased to announce the publication of the first issue of a new scientific journal – NNL Science. The journal presents a selection of the many and varied peer reviewed scientific articles that NNL has completed over the last year either for customers or through our own, self-funded Signature Research programme.
Chief Science and Technology Officer, Graham Fairhall commented:
"NNL Science illustrates the breadth and relevance of the Laboratory's work against the grand nuclear challenges of our age. I'm proud of the hard work and levels of expertise we have within our business. This first edition of what I expect to be a successful series of journals shows why NNL is rightly perceived to be at the forefront of nuclear science and technology in the UK."
Each edition of NNL Science will highlight a key area. This first edition includes a number of papers on the science of graphite.
We are publishing this information in part to stimulate scientific engagement with NNL and its broad range of stakeholders. As such there are contact details for the lead authors at the start of each article. 
Click on the link on the right hand side to download a copy.