Sunday 25 May 2014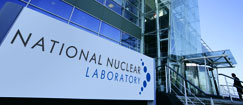 Since NNL was established in 2008, it has gone a long way towards transformation into a very different organisation. We have restructured to ensure our primary focus is on meeting the demands of customers as we continue to maintain our excellent safety record.
As the nuclear industry evolves, NNL has recognised the need to refresh and sharpen up our identity.  Our new look reflects a growing contribution and role in a vibrant sector.
The site features an all new look and functionality and reflects our new brand identity as well as containing a wealth of new material about our company, our work and our people.
These changes are part of our broader, ongoing transformation programme which aims to ensure we provide the very best quality, value and service to customers and other key stakeholders. Our continuing evolution and transformation builds on our existing heritage and track record.
As NNL becomes more established as a commercial business, we have also adopted a new approach to publishing our annual results.  The first NNL Annual Report appears on the website today and features our results for 2011/12 and commentary on another great year.
In implementing our new brand and identity, NNL is entering the next exciting phase of development.  We would like to invite all of our customers and stakeholders to join us on our ongoing journey to deliver world class quality, value and service.