Sunday 25 May 2014
NNL Helps Train Iraqi Scientists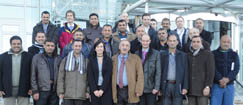 The UK National Nuclear Laboratory last week hosted a training course for Iraqi scientists who will work on the dismantling, decommissioning and decontamination of nuclear facilities built in Iraq during the Saddam Hussein regime.
The week-long training visit to the north-west of England is the culmination of a two-year programme carried out on behalf of the European Commission by the UK's National Nuclear Laboratory (NNL) and Italy's Insubria Centre for International Security.  The training programme is designed to safely speed up the nuclear clean-up operation in Iraq and to retrain scientists for careers focused on nuclear decommissioning and waste management. 
The visiting scientists and engineers have considerable nuclear awareness and experience in their fields.  Over the two years of the programme they have spent time with experts from the UK and Italy learning about best practice in waste management and site clean-up.  The training has included topics such as laboratory management and quality assurance; decontamination methods; waste minimisation and waste management practices; determining suitable disposal site locations; hazard and safety assessment; waste characterisation methods and decommissioning.
Last week the delegation was able to see UK expertise at first hand, visiting the NNL facility on the Springfields site near Preston, the National Low Level Waste Repository in West Cumbria, waste management plants on the Sellafield site, NNL's flagship Central Laboratory at Sellafield and the company's Non-active Rig Hall at Workington.
Dr Emad Shamsaldin, Director of the Radioactive Waste Management Directorate in the Iraqi Ministry of Science and Technology, said:  "The visit has been very valuable to us.  It has allowed our people to see new ideas which they can adapt to the work they will be doing in Iraq and increases their confidence in what can be done to remediate nuclear sites."
Olivia Thompson, Research Technologist with the National Nuclear Laboratory has led the NNL aspects of the training throughout the two years.  She said:  This visit has been a long time in the planning and I am delighted it has proved to be so useful to our visitors.  I am proud to have been involved in such a worthwhile project, and of the team which has made the visit, and the whole project, such a success."