NNL appoints Chris Moore as new Strategy Director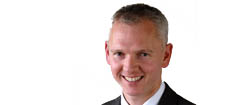 The UK's National Nuclear Laboratory (NNL) is pleased to announce the appointment of Chris Moore to the position of Strategy Director. Chris will join NNL and take up the role on Monday 3 June, replacing Andy Elsden who has retired from NNL. 
Chris has a substantial amount of operational, commercial and strategic experience from his career in the nuclear industry with British Nuclear Fuels plc and latterly Westinghouse, where he most recently held the position of Customer Project Director.
Chris commented:
"I am very pleased to be joining NNL at what is an exciting time for the organisation. The recent announcements from UK Government place NNL clearly at the heart of both the UK's future plans for nuclear R&D and also of the UK's nuclear offering on the international stage. I am looking forward to helping to define and implement that new role."
NNL Managing Director Paul Howarth added:
"I'm delighted to welcome Chris to NNL, and I'm looking forward to working with him. He is the latest in a series of well known and respected industry figures to join us recently, which speaks volumes for the reputation and future prospects of our business."