NNL and Lloyd's Register Lead Regulatory Event for Jordanian Nuclear Industry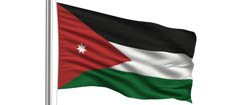 The UK's National Nuclear Laboratory (NNL) and Lloyd's Register have jointly led a major regulatory workshop in Amman, Jordan for a range of representatives of that country's nuclear industry. The event took place over three days last week (23-25 April) and comprised a series of detailed presentations and discussions on the UK Generic Design Assessment (GDA) process, used to evaluate all aspects of the safety and environmental performance of nuclear reactor designs. The same process is being considered for use in Jordan, which is set to embark on its own programme of nuclear reactor construction.
There were 18 participants in the workshop representing several different organisations from across Government, the regulatory body and the commercial nuclear sector in Jordan.
His Excellency Dr Khaled Toukan, Chairman of the Jordan Atomic Energy Commission opened the workshop and stressed that the Jordanian nuclear programme was proceeding in a timely fashion with strong emphasis on transparency and international collaboration. He welcomed the fact that two renowned British institutions – NNL and Lloyd's Register – were introducing the concept and principles of the GDA process to Jordan.
The closing of the event was attended by UK Foreign Office Minister Alistair Burt, MP, who said:
"I was pleased to be able to provide the closing remarks at the GDA Workshop. It is great to see recognition from the Jordanian nuclear industry of the expertise and experience available in the UK, which can help to support their progress towards a nuclear power programme. I believe there is a substantial opportunity here for British companies such as NNL and Lloyd's Register, based on the tremendous expertise and experience they can offer, and I hope this event will be the start of a long and successful working relationship over the coming years."
NNL's Strategic Business Development Director, Huw Morgan, who helped to set up the workshop, commented:
"There is no doubt that Jordan is one of the countries at the forefront of the emerging nuclear renaissance, looking to build and operate nuclear power plants for the first time. Many other countries are watching closely with a view to following the path which Jordan is leading. I am delighted that NNL was selected to deliver this workshop, along with our partners Lloyd's Register, recognising the 10,000 man-years of accumulated nuclear industry experience which we can call upon in the NNL organisation. We have enjoyed working with the Jordanians at this event and have been impressed at their level of prior knowledge and their appetite to learn. We look forward to building upon the relationship we have established here as the Jordanian programme develops over the coming months and years."
Professor Richard Clegg, Global Nuclear Director for Lloyd's Register, added:
"The safe and secure use of nuclear energy is an important option for countries like Jordan tackling their energy needs. Jordan, as a new-entrant country to nuclear technology, wants to benefit from the experience and lessons of other countries. The UK has much to offer in this respect; our regulatory regime and principles are well respected internationally and not being a reactor vending nation makes our advice technology neutral. Lloyd's Register is a historic organisation which provides independent assurance and expert advice to companies and regulators across the energy and transportation sectors. Having been involved in the nuclear sector for over 50 years, we're committed to enhancing the safety, security and quality of the peaceful uses of nuclear energy worldwide. The combination of Lloyd's Register and the UK National Nuclear Laboratory is a powerful alliance to support the Jordanian nuclear regulator.
For further information on Lloyds Register, please visit www.lr.org