Sunday 25 May 2014
National Nuclear Laboratory Authors Win Nuclear Industry Prize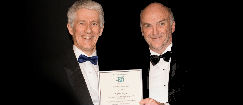 Each year the Nuclear Institute awards the prestigious "Pinkerton Prize" to the authors of the best paper to feature in their "Nuclear Future" magazine during the previous 12 months. The UK's National Nuclear Laboratory (NNL) was delighted to learn that, for 2012, the Prize was awarded to the authors of an NNL paper.
Nuclear Institute President, Norman Harrison, made the announcement at the Nuclear Institute / Nuclear Industry Association Annual Dinner in London and presented the prize to NNL's Corporate Chief Technologist Mike Angus for the paper "Encapsulation Options for Decommissioning Waste" which was jointly authored by Mike and NNL colleagues Charlie Scales and Steve Palethorpe.
Collecting the Award, Mike said:
"I was thrilled to hear that this paper had been selected as the best one of the year by the Nuclear Institute's judging panel and very proud to collect the award in front of well over a thousand industry colleagues at the Dinner. It is a recognition of the breadth of capability within NNL, since I was able to obtain input to this paper from five colleagues with specific expertise in immobilisation topics in addition to the contributions from Steve and Charlie – a real team effort. I'm pleased that we managed to present our work on this subject in a way which they found to be both clear and interesting.
There is a lot of attention given sometimes to the new build side of our industry, but it's important to remember that decommissioning and dealing safely with the resultant wastes is a vital aspect too.  I hope this award will be a boost for all of those who work on these important topics." 
Click here to read the full Pinkerton Prize Article in Nuclear Future Magazine