Sunday 25 May 2014
MBE for NNL Research Fellow Dr Dominic Rhodes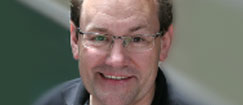 National Nuclear Laboratory (NNL) Research Fellow Dr Dominic Rhodes was awarded an MBE in the New Year's Honours list, published today. The award – which, in full, makes Dominic a Member of the Order of the British Empire – is in recognition of his services to science.
Following a degree in mining engineering and a spell in the mining industry, Dominic has now worked in the nuclear sector for almost 20 years. In his current role as a Research Fellow with NNL in the field of powders and slurries he has led many projects for NNL customers, in particular at Sellafield, where he has done work related to virtually every major plant on the site. As well as research to solve operational problems, Dominic is passionate about innovation and has helped to bring forward many innovative technology concepts to address challenges across the nuclear sector.
Dominic is also NNL's Corporate Social Responsibility Manager and plays a very prominent, hands-on role in leading outreach activities for the company, working with schools and other bodies in West Cumbria and throughout the UK. He has led NNL's work with The Smallpeice Trust, running a series of residential courses to help inspire young people in science and technology subjects. A number of the young people who have been inspired by Dominic's involvement through his outreach work now work alongside him as colleagues.
Away from work, Dominic has a number of varied interests including fine wine (on which subject he has lectured to a high level), beekeeping and audio-visual electronics. He is married to Juliet, a GP, has twin 12-year old daughters and lives (appropriately for a bee-keeper) in St Bees, Cumbria. His father also received an MBE – for his work as chief flying instructor at the RAF Test Pilots' School.
Dominic said today:
"I was shocked and honoured to receive the news of my MBE. I have always been fascinated by science and its application to solving real problems and I've been fortunate that my career has allowed me to combine being a practising scientist with sharing my passion with a new generation of entrants to the science and technology sector. Both aspects of my work require a major team effort to be successful and I've always been lucky to work with some fabulous colleagues who combine great knowledge and tremendous enthusiasm."
NNL Managing Director Paul Howarth added:
"Dominic's award is great news and very well-deserved. He devotes a huge amount of his personal time to promoting science, technology, engineering and maths to young people and I hear a lot of really positive feedback about the impact he has on those individuals. He has boundless enthusiasm in addition to his specialist technical expertise and he is an inspiration to colleagues in NNL as well as those people he deals with outside the Company."