Sunday 25 May 2014
Global Nuclear Skills Institute Launched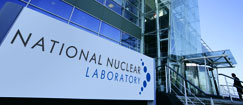 The Global Nuclear Skills Institute (GNSI) was officially launched last week in the heart of London on Oxford Street. 
GNSI is a joint venture between the National Nuclear Laboratory and the British Institute of Technology and E-Commerce which offers a global solution to the nuclear skills gap. 
The demands from a global resurgence in nuclear programmes see emerging nuclear countries with little of no infrastructure, limited understanding of international obligations and a lack of understanding about the fuel cycle. 
GNSI can help to address these issues by providing essential skills and knowledge for new and emerging nuclear countries.
The Launch
Lord Ahmed of Rotherham welcomed guests and said that BITE now has the opportunity to target students from all over the world who love to be in the centre of this vibrant city. He noted that BITE has created its own unique programmes with its leading partners and that is what it has done with the National Nuclear Laboratory in creating the Global Nuclear Skills Institute.
Mark Sharpe, Strategic Business Development, National Nuclear Laboratory gave a presentation on the Global Nuclear Skills Institute. He has over 25 years experience in the nuclear industry and was at the heart of the industry as it went through various privatisations and major restructuring. In recent years he has become central in developing a number of partnerships and collaborations for NNL aimed at growing the business into new sectors and new markets.
Dr. Farmer, CEO of the British Institute of Technology and E-commerce said that the central location of the new campus will help take BITE into exciting further new areas including the partnership with the Global Nuclear Skills Institute. This new initiative will help develop the skills to provide international leadership for the nuclear professionals of tomorrow.